Wow! Family holidays
A family holiday in the 4-star Family Hotel Gorfion in Liechtenstein
The most beautiful way to escape everyday life and directly enter the best family holiday leads 1600 meters above sea level to the Liechtenstein family El Dorado Malbun. All around our 4-star Family Hotel Gorfion, children will find wonderful meadows to play in, snow for sledding and skiing, nature to experience, the Alps to marvel at ... A world in which families really feel like they're in paradise. It is quite clear: Malbun is a top "family destination"  and as such has been awarded the family seal of approval and best for your family holiday. 
Right in the middle of it all, you can enjoy exceptional feel-good extras for families in Gorfion and here in Liechtenstein! From the freshly prepared baby porridge for our youngest guests to the indoor kid's world, you will be well looked after at the Gorfion Family Hotel. And that's exactly what hotelleriesuisse thinks, which has chosen us as a top family hotel.
Everything's here at Gorfion!
Perfectly equipped for families
Mr. Gorfion's Happy Club with chidren's activity program every day
Softplay facility for playing, romping and having fun
Every kind of baby and toddler utensil
Playground and ski school directly at our doorstep
Children's buffet, baby porridge, full board
For a bit extra on your family holiday
4-star holiday with the family in Malbun
We are well prepared for your family holiday – so all you have to do is look forward to your timeout in Malbun while packing your suitcase.  We have:
Baby beds, baby tub, STOKKE® Tripp Trapp® highchair with baby seat, baby phone, changing mat, diaper pail, bottle warmer, humidifier and much more for your well-being in the Family Hotel Gorfion.
High-quality mountain buggies and carriers, footbags for the baby carriages, sleds, blobsleds and more for hire for your activities in the family-friendly high valley.
Two self-service oases in the Hotel with a microwave, sink, fridge, and even washing machine and ironing board. 
Free childcare daily in the kid's world from 9:00 am to 8:30 pm.
Full board at toque level, children's buffet and daily freshly prepared baby porridges with meat/vegetables from the region.
Family rooms with bunk beds, sleeper sofa or extra bedroom for children.
Baby pool, children's pool and indoor pool for families as well as a sauna area exclusively for adults. 
Free weekly llama treks in summer and winter and more are on the activity program in Malbun (some of which is free of charge).
Short distances: in summer to the meadow to play on, in winter to the training slope for skiing directly at the hotel's doorstep. Ski-in and ski-out in the charming ski area or simply hiking with your family.
More about a family holiday in Liechtenstein
Book a family room or one of our family offers now:
Hooray! A lot is going on here!
Kid's world, playground and mouse power in the Family Hotel Gorfion
Heads up, little ones! In our Family Hotel Gorfion, we have an unofficial receptionist: Our mascot, Herr Gorfion. So when you meet a cuddly and cheese-enthusiastic mouse with a jacket, be prepared to get happy. This is also the case in the kid's world, where the kid's world team offers a daily program for a variety of family holidays.
The family hotel has an outdoor playground and a meadow for playing. There is no through traffic here, so children can romp and play to their heart's desire. Meanwhile, parents can enjoy a coffee on the terrace and the view of the fantastic Liechtenstein mountains.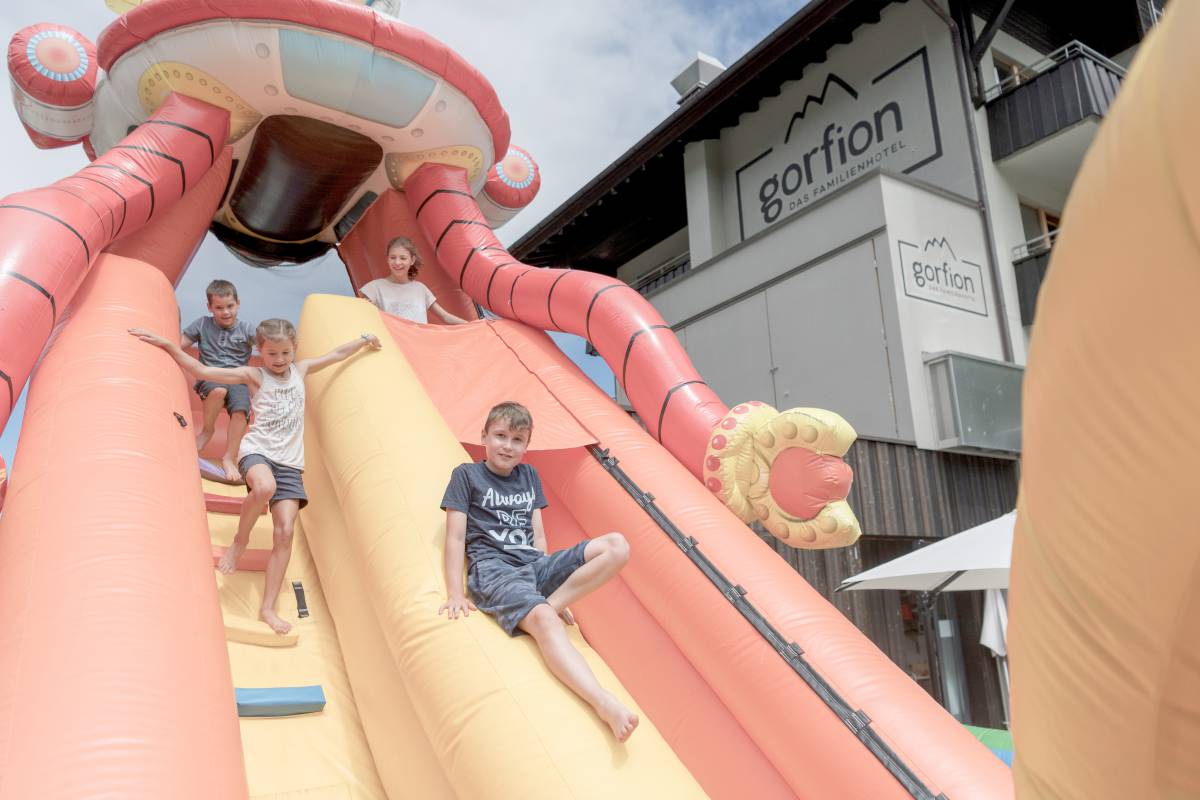 Cool holidays with juniors
What can the big kids do here?
We get that question quite often. As a family hotel, juniors are also very important to us. We don't offer game consoles and streaming portals, but instead a lot of adventures mainly in the nature. From campfires, mixing cocktails, designing a PIXEL key ring, bird of prey show, pool party to night tobogganing in winter, everything is on the program.
And when it's time to chill out? The Lawena room is the meeting place for juniors in our family hotel. Cool here refers to the chilled-out atmosphere. Beanbags, football table, billiards, air hockey, jukebox and table tennis are available for our young guests here. They don't have to do anything here, but the option for a round of foosball or a billiard game is there ...
The youth room can also be used for film evenings and discos.
By the way, the room is named after the Lawena Alp in the mountains around Malbun – an idyllic place with a great holiday view.